P

ROFILE



Certificate in Web Technologies from the International
Webmasters Association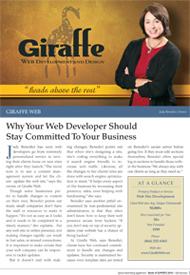 GSA Book of Experts
Judy Benedict, Principal Partner, Owner

MBA in Real Estate and Management Information Systems, University of Georgia
B.S. in Administrative Management, Clemson University

Judy formed Giraffe Web Development and Design in 1999. Prior to forming her own company, as V.P. of Operations for Goddard Technology, she completed several database, hardware, software and training-related projects for hundreds of companies such as Intel, the United Nations, AT&T, Hallmark, Buckley Air Force Base, Atlanta-Hartsfield and Dulles and National Airports, First National Bank of Chicago, and Greenville Hospital System.
After graduating from college, Judy worked in the field of commercial real estate finance for 10 years before making a career move into the field of high technology.
Judy is a graduate of Leadership Greenville and Furman Women's Leadership Connections. Currently she serves on the Greenville County College Fair steering committee, as secretary of the Hampton-Pinckney, Inc. Association, as well as on the organizing committee of the HP Porchfest. Previously a guest lecturer at Presbyterian College, she is a past board member of ECPI College of Technology & ITT Advisory Board, the Greenville County Historic Preservation Commission, past-presidents of: the United Methodist Women of Buncombe Street UMC, the Kappa Delta Alumnae Association of Greenville, and the Junior Women's Club of Anderson. She also served on the boards of Stone Lake Community Club, A Child's Haven, Lapsits for Early Literacy and is the founder and editor of The Hampton-Pinckney Gazette.

Currently Judy is a member of the Greater Greenville BNI chapter, holding the web development/SEO seat.
In addition to her nonprofit involvement she has been a certified aerobics instructor through the American Council on Exercise, CrossFit Level 1 Certified and is a world-champion powerlifter through the World Natural Powerlifting Federation. She is now in the process of partnering with the founder and owner of 21st Century Fitness.

Her recent book release, "Manifesting Queen," is an international bestlseller and can be purchased on Amazon Kindle.
---- Strategic Alliances ----
Valerie Bickley, Bickley Creative - Valeris is an award-winning scriptwriter and broadcast producer. When partnering on a project, she helps provide brand strategy, copywriting, and if needed, project facilitation.
Cheryl Carpenter, C3 Creative - Cheryl was previous the Art Directory for two local award-winning agencies, then moved onto Creative Director at yet a 3rd, award-winning local agency. She provides graphic design and social media managment assets as needed, mostly for our restaurant industry clients.
Contact Giraffe Web today for any questions!